2018

7,500 STUDENTS IN GREECE AND ABROAD

2015

GASTRONOMY WITH EXCELLENCE AND LASTINGNESS

2008

BILATERAL COOPERATION OF SCHOOL STUDENTS WITH FRENCH AND ITALIAN CHEFS IN PARIS

2003-2004

NAMED BEST SCHOOL IN GREECE TO REPRESENT ITS COUNTRY IN EUROPE

2002 - 2016

74,000 FREE FOOD PORTIONS FROM SCHOOL STUDENTS

2000

LA CHEF LEVI RANKED 6th BEST SCHOOL IN EUROPE

1999

AN ENTIRE WHITE TOWER MADE OF CHOCOLATE

1998

NOMINATION FOR THE GUINNESS WORLD RECORDS

1994

A MASSIVE CAKE

1989

1st «GASTRONOMY COMPETITION»

1990-PRESENT

OUR AWARDS ARE OUR STUDENTS

1993

NOMINATION FOR THE GUINNESS WORLD RECORDS
2018: 7,500 STUDENTS IN GREECE AND ABROAD
A milestone for La Chef Levi Group. Thousands of success stories and top Chefs, Pastry Chefs and Bakers, thousands of people who built their lives after studying, countless dreams that came true. An even greater degree of responsibility for the continuity of the School of Chefs.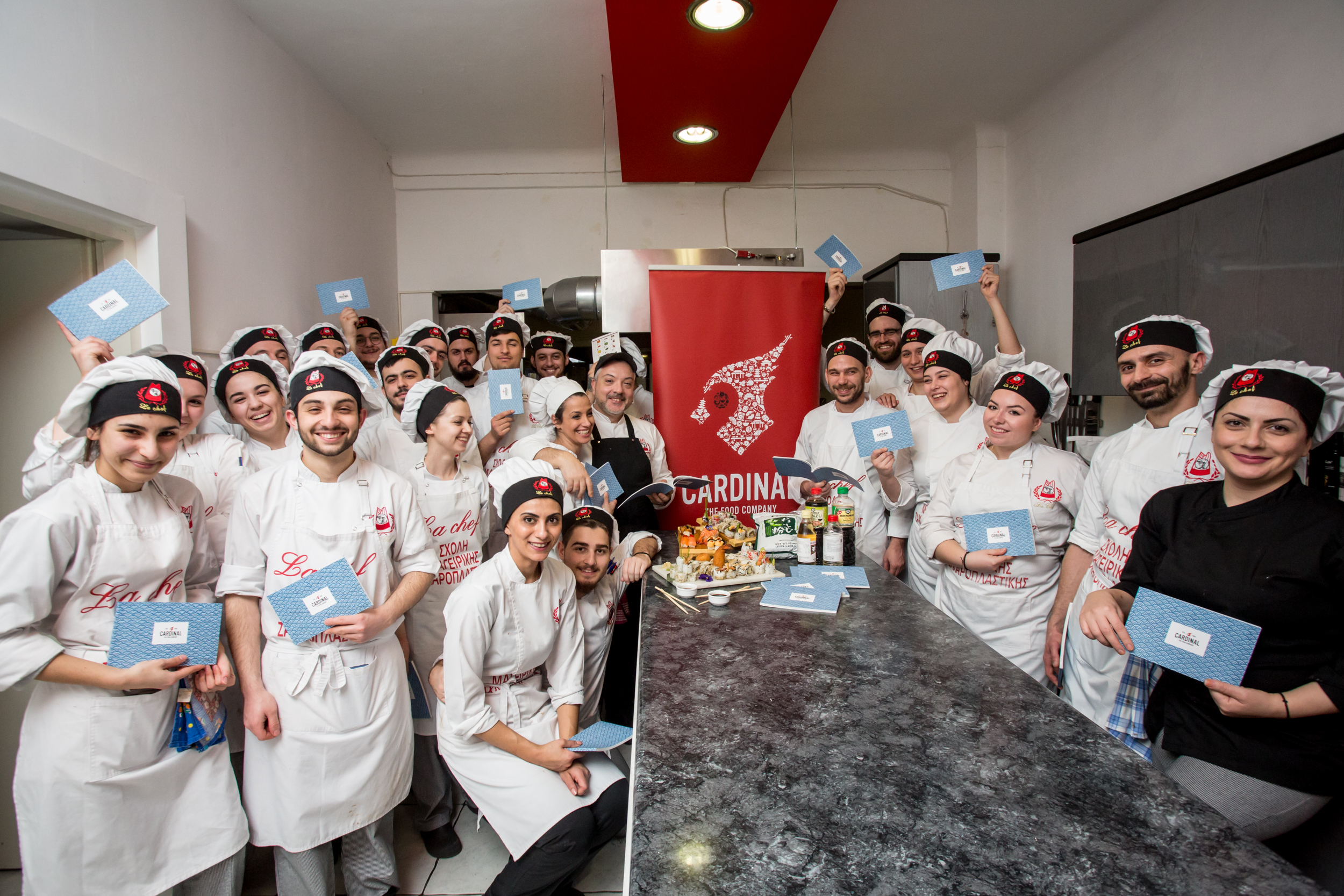 2015: GASTRONOMY WITH EXCELLENCE AND LASTINGNESS
5 new Medals in all Cooking and Pastry categories that students competed in. An overwhelming public response and admiration by Chefs and teachers from all over the world.
The creations were hosted by foreign press, gaining global scope. The School's Chefs shared the students' creations in seminars all over the world!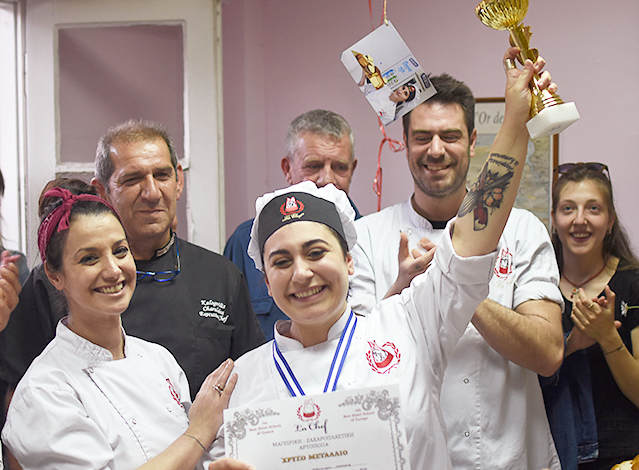 2008: BILATERAL COOPERATION OF SCHOOL STUDENTS WITH FRENCH AND ITALIAN CHEFS IN PARIS
Through traveling, international workshops, lectures and seminars, La Chef Levi ensures the continuous evolution of curricula and the implementation of new trends and techniques after successive tests. Students and graduates have the opportunity to navigate into new culinary worlds, get to know distinguished colleagues and follow the latest developments in the industry.
Cooking, Pastry and Bakery have universal appeal and developments that matter to everyone.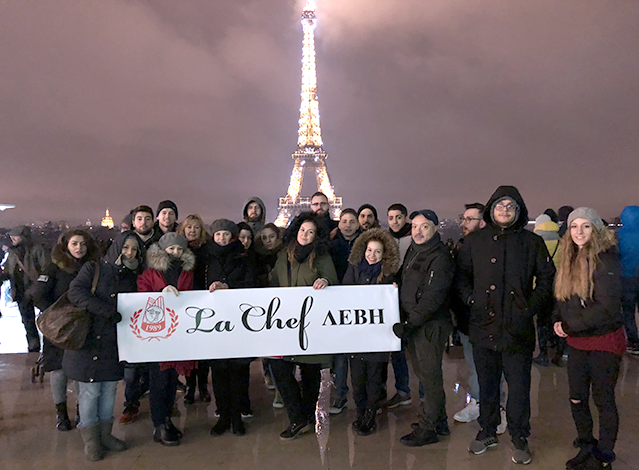 2003-2004: NAMED BEST SCHOOL TO REPRESENT GREECE IN EUROPEAN COMPETITION
An unforgettable experience for culinary students, at the 5* Kempinski Nikolis Hotel with the presence of an international panel and Chefs, La Chef Levi remains exactly where it belongs, at the top of the Gastronomic Pyramid of Greek Schools.
The passion, exclusive specialization and vision of the School bring the gold medal in the Competition "The Culinary Star of Europe–Greek National Final".
2002-2016: 74,000 FREE FOOD PORTIONS FROM SCHOOL STUDENTS
Cooperation with the Municipality of Kalamaria for celebrating Clean Monday by preparing traditional food as a special treat to 4,000-5,000 people; a lengthy, yet rewarding annual event, wherein our students contribute to society with great pleasure!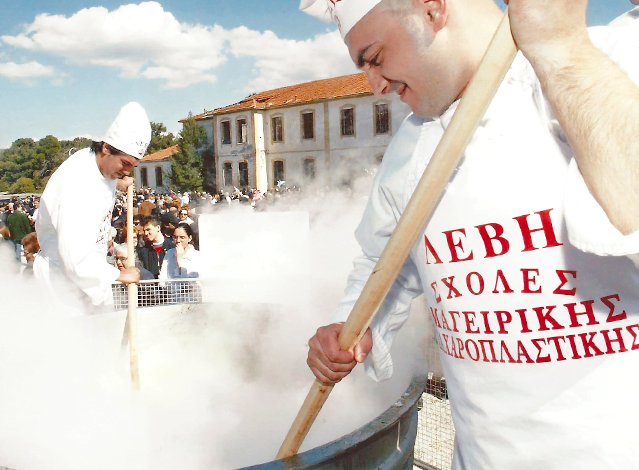 2000: LA CHEF LEVI RANKED 6th BEST SCHOOL IN EUROPE
Representing Greece in the European Competition "Best School of Europe" (Brussels) as the best and most accredited School in the country. Through excellent guidance, hard work and innovative techniques, our students won the 6th place among 25 countries, bringing both Greece and their own skills to the spotlight amid the European elite.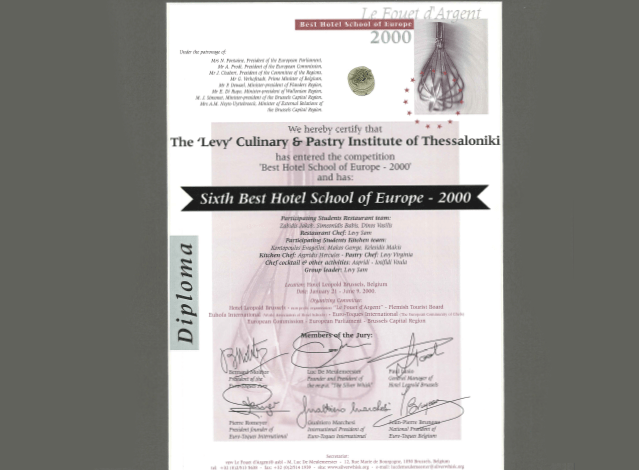 1999: AN ENTIRE WHITE TOWER MADE OF CHOCOLATE
Creation of a 2.5 meters high 3D model of the White Tower made of chocolate in Aristotelous Square by Chef Virginia Anastasiadou.
1998: NOMINATION FOR THE GUINNESS WORLD RECORDS
A profiterole weighing 4,500 kg made in Klafthmonos Square, Athens and at the Statue of Venizelos in Thessaloniki with the participation of 120 students of the School. Thousands of visitors admired and tasted the creations of Pastry Chefs and students of the School nationwide.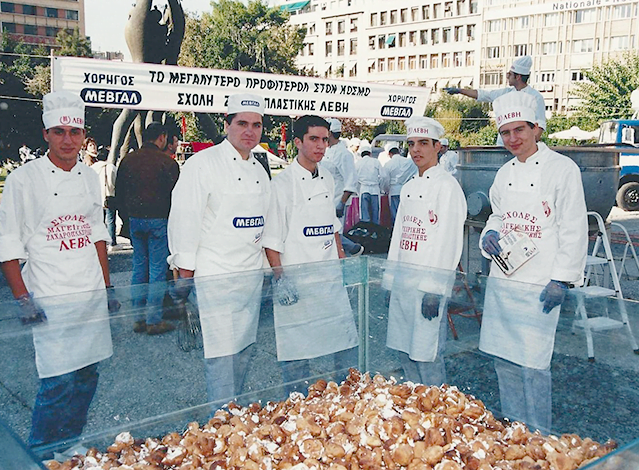 1994: A MASSIVE CAKE
World record for making a cake weighing 1,800 kg with the help of 60 students of La Chef Levi School for the anniversary of the Municipal Radio of Thessaloniki.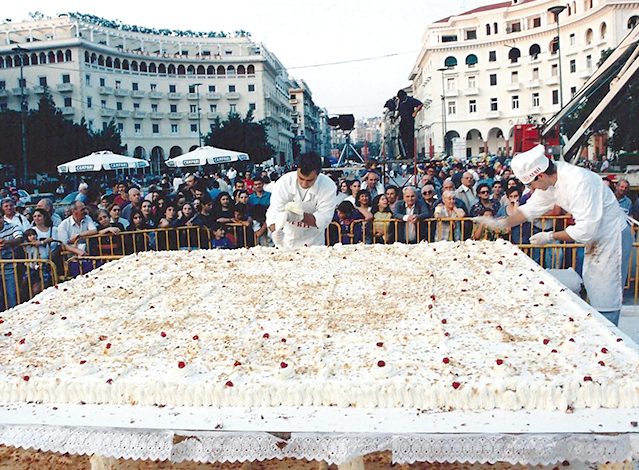 1989: 1st «GASTRONOMY COMPETITION»
The journey to competitions, awards and grand scale events has began with the first Gastronomy Competition, an innovation for Greek Cooks, Pastry Chefs and Bakers back in the day. Works of sugar paste, dead dough, butter, chocolate, luxury buffets, vegetable carving, art de la table and demanding techniques were some of the features of the first Panhellenic celebration of gastronomy from the very first private School of Gastronomy in Greece.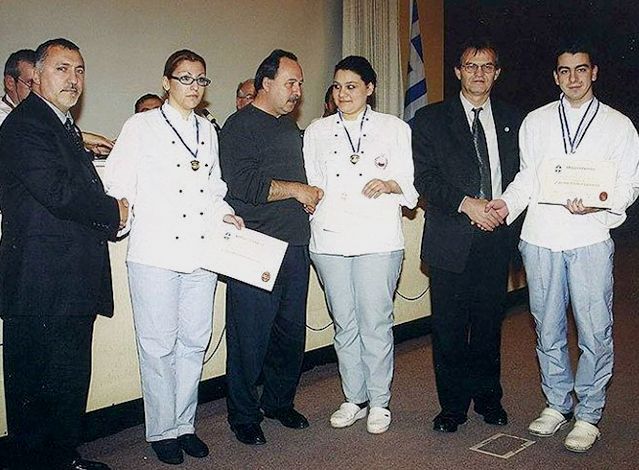 1990-PRESENT: OUR AWARDS ARE OUR STUDENTS
187 medals in Panhellenic, Paneuropean and Worldwide Competitions won by students of La Chef Levi Schools in Greece and abroad.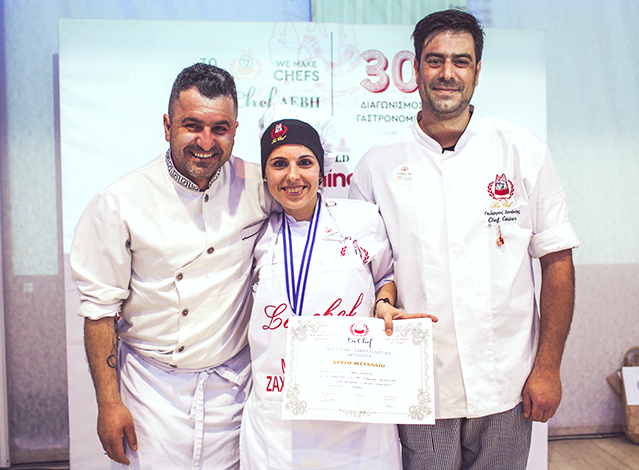 1993: NOMINATION FOR THE GUINNESS WORLD RECORDS
A profiterole weighing more than 2,5 tons made at Aristotle Square under the auspices of the Municipality of Thessaloniki.
More than 100 students created and distributed thousands of sweets to passers-by free of charge!